Cannot save preferences
Аўтар тэмы: Tom in London
Tom in London
Вялікабрытанія
Local time:

07:20




Член (2008)


італьянская → англійская

When I go to the list of the forums I want to follow, and deselect the ones I DON'T want to follow, there seems to be no way to save my preferences, and in fact they are not saved, and the forums I DON'T want to follow continue to show up in my list of forums I am following. What am I missing here? Where do I save my preferences for those forums?

Here's a small screen shot from the list where I've been selecting/deselecting. As you can see, I've turned off various forums I don't wa
...
See more
When I go to the list of the forums I want to follow, and deselect the ones I DON'T want to follow, there seems to be no way to save my preferences, and in fact they are not saved, and the forums I DON'T want to follow continue to show up in my list of forums I am following. What am I missing here? Where do I save my preferences for those forums?

Here's a small screen shot from the list where I've been selecting/deselecting. As you can see, I've turned off various forums I don't want to see - but they keep on appearing in my list anyway. Grrrrr......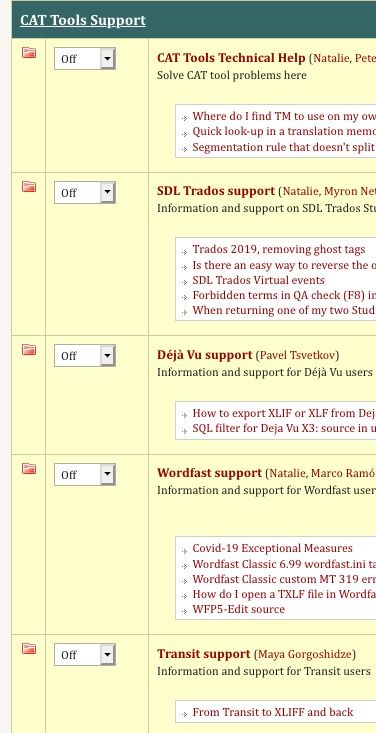 ▲
Collapse
Tom in London
Вялікабрытанія
Local time:

07:20




Член (2008)


італьянская → англійская


ПАЧЫНАЛЬНІК ТЭМЫ
I just removed SDL Trados support from my 'List on homepage' and refreshed my home page. That made a post from an SDL Trados forum disappear, so it seems to work for me. At least on the old home page, which I'm using, as the new one is a complete dog's breakfast.

Did you refresh your home page? If you just navigate back to it without refreshing, you may see a cached version that doesn't reflect your update.
Tom in London
Вялікабрытанія
Local time:

07:20




Член (2008)


італьянская → англійская


ПАЧЫНАЛЬНІК ТЭМЫ
I thought you would. When you are troubleshooting something, you just need to rule out the most obvious causes first.

You could try to clear all proz.com cookies. Just in case.

If it still doesn't work and no knight in shining armour comes to your rescue, the next obvious step is to create a support ticket – as you would know already.
To report site rules violations or get help, contact a site moderator:
You can also contact site staff by
submitting a support request »